July 15, 2021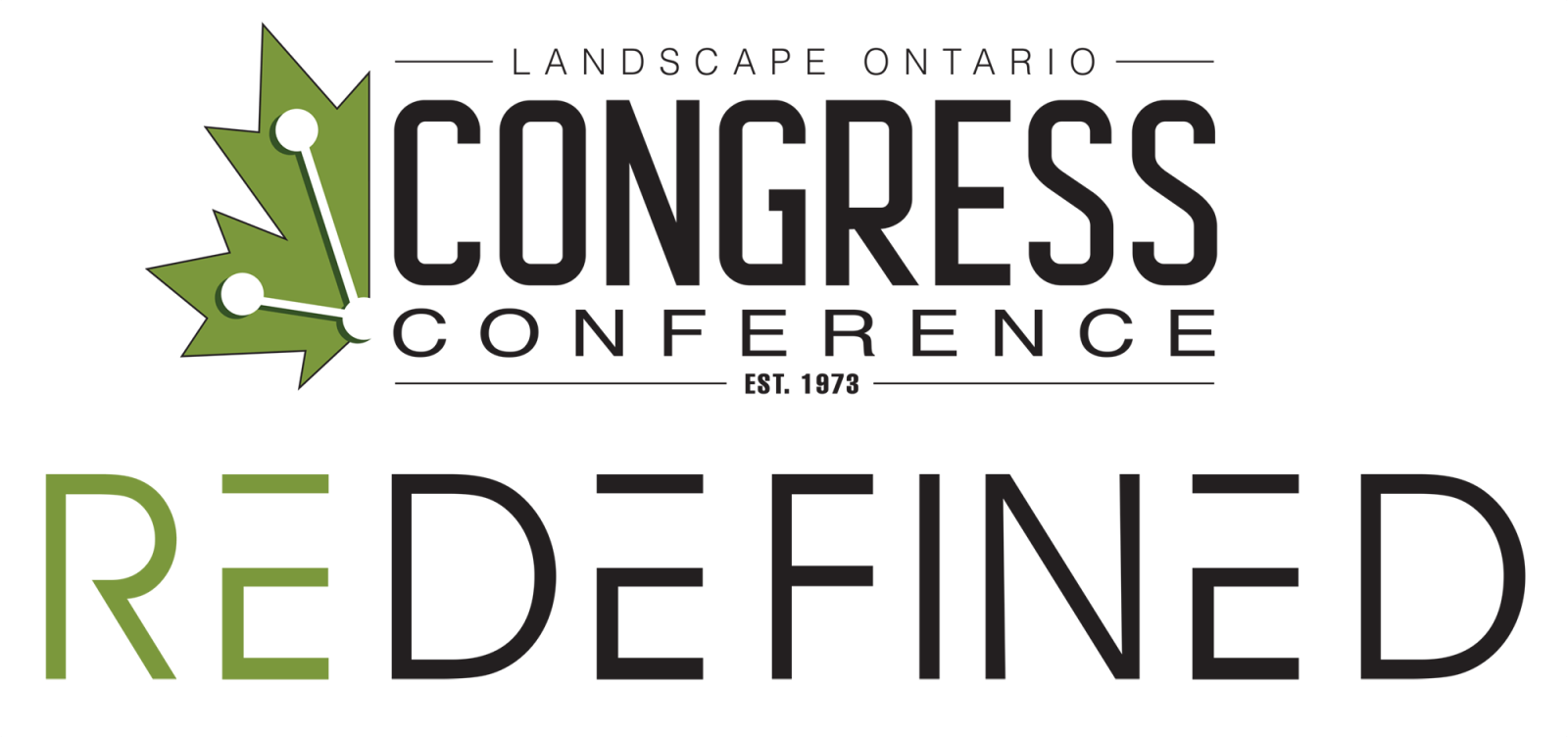 January 18-20, 2022
Virtual Conference via Zoom Webinar
Pricing:
Early Bird Full Conference Pass — all 36 sessions (Until Dec.17, 2021):
$225 Member | $275 Non-Member | $40 Student | Free to Media
Regular Full Conference Pass (After
Dec.17, 2021
):
$275 Member | $325 Non-member | $50 Student | Free to Media
Single session registration is not available at this time.
All registrations received by January 12, 2022 will receive free entry into the
Congress 2022 Trade Show - January 11-13, 2022
at the Toronto Congress Centre. (Coupon Code will be in your registration confirmation).
All sessions will be available in replay format until June 30, 2022 unless otherwise stated.
---
Accreditation:
Sessions may be eligible for the following credits:
ISA Ontario CEUs
Session sponsorships available, please contact
Amy Buchanan
for more details.
---
---
9:00 - 10:00 a.m.
Embrace Your Inner Geek
Grant Harrison | Nextra Consulting
Most landscapers are technicians, not techies. They're gifted in working with their hands and creating beautiful landscapes. They're usually not so interested in the latest gadgets and apps. (I know some still using a flip phone, for goodness sake!) But technology has provided a vast array of tools to help business owners and their staff operate faster, easier and more efficiently. I am a landscaper, not a techie. But I've embraced the technology available to landscape contractors because I've seen the difference it makes. I'll introduce you to the programs/apps that I recommend to landscapers. They will help increase efficiency and accuracy and decrease errors.
More about Grant Harrison
---
9:00 - 10:00 a.m.
Pond Management - The Opportunity and Necessity
David G Sim, LEED AP | Arbourdale
This presentation will focus on the maintenance and troubleshooting for large ponds and public water features.
More about David G Sim
---
9:00 - 10:00 a.m.
Garden Centres Around the World
Paul Cooling | Coolings Nurseries Ltd (UK)
Rachel Doyle | Arboretum (Ireland)
Leanne Johnson | Gardenworks (Canada)
Karen Moad | Rivers of Yarrambat Lifestyle Centre (Australia)
Nick Stodel | Stodels Garden Centres (South Africa)
Five International Garden Centre (IGC) owners or industry experts from around the world will share the three most important things that they have done to grow their business, and how that will serve them going forward.
More about:
Paul Cooling,
Rachel Doyle,
Leanne Johnson,
Karen Moad,
Nick Stodel
10:00 - 11:00 a.m. - Break
11:00 - 12:00 p.m.
Successfully Recruiting and Retaining Labour
Lindsay Drake Nightingale | Yorkshire Garden Services
Christine Moffit | Christine's Touch Gardening
Kathy Thomas | Green Thumb Landscaping Limited
Scott Wentworth, OALA, CSLA, CLD | Wentworth Landscapes
Sponsored by RINOX INC
Attracting, engaging, and retaining the right employees is a persistent challenge for green professionals in all sectors. Hear strategies from Landscape Ontario members who have been successful hiring and retaining staff, season after season.
More about:
Lindsay Drake Nightingale,
Christine Moffit,
Kathy Thomas,
Scott Wentworth
---
11:00 - 12:00 p.m.
Innovative Soils in the Modern Construction Landscape
Jose Haig, M.Sc., B.ES, CUE | Earthco Soil Mixtures
Soil has been around for a millennia; it was one of the first building materials humans had ever used. Today soil is still a major part of construction projects and soil mixtures have evolved to provide a simple solution many construction parameters. From Sand Based Structural Soils to fast draining bio-retention mixtures; soils are now used to support infrastructure, move water, grow plants and in many other advanced applications in the construction landscape. This presentation will briefly go over some of the advanced applications and what goes into the soil mixtures to make it possible.
More about Jose Haig
---
11:00 - 12:00 p.m.
Sustainability - Buzz Word or Buzz Kill?
John Bladon, PAg, ISSP | The Chimera Group
Presentation will include properly defining sustainability and elaborating on the multi-dimensional framework which EVERY business should be thinking about. Sustainability is proving to be a word that is not only abused by some but is misunderstood by many others. Understanding what it actually means and the impacts of externalities on our business and customers alike is critical to our society's long-term well being.
More about John Bladon
12:00 - 1:00 p.m. - Break
1:00 - 2:00 p.m.
Get Smoother Operations with Repeatable Systems
Jacki Hart, CLP | Consulting By Hart
In this session, learn proven techniques to improve how your team strives three key systems goals: managing thinking, actions and resources. Untangle the confusion around determining what systems you need - and leave with a clear path to get your team focused and driving consistent results.
More about Jacki Hart
---
1:00 - 2:00 p.m.
2021 Trial Garden Results
Rodger Tschanz, MSc | University of Guelph
This session focuses on the highlights from the University of Guelph's 2021 Trial Garden Season. The trial sites at Landscape Ontario in Milton, the Royal Botanical Gardens in Burlington and at the University of Guelph's GTI in Guelph all provide there own unique growing environments for new annuals, perennials and edibles. The best annual performers from these sites will be discussed in the context of their suitability for container and landscape applications. Perennial trial entries from the Ontario Perennial Trial at Landscape Ontario will be presented with a focus on winter hardiness and survival and season-long ornamental value. Edibles from the trials will be evaluated and presented primarily on their suitability for small urban gardens.
More about Rodger Tschanz
---
1:00 - 2:00 p.m.
Building a More Inclusive Workforce in Green Professions
Jeanette "Danielle" Barber, Ph.D.
This session provides attendees with strategies to help attract and retain diverse candidates, as well as keep employees engaged, motivated and empowered. Bring your organization the talent and diversity it needs by building a more inclusive environment where people want to work.
More about Jeanette Barber
2:00 - 3:00 p.m. - Break
3:00 - 4:00 p.m.
Profiting From Saying "No"
Moderator: Haig Seferian, CLD, OALA, CSLA, FASLA
Panel: Beth Edney, CLD CIFD | Designs By the Yard
Frank Ferragine | Frankie Flowers Inc.
Jim Mosher | Landscape Plus Ltd
When we first hear this phrase it sounds counter intuitive. How can we profit if we are turning down prospects? Although we all want to have a roster of clients and projects to work on throughout the year, not all projects are profitable or worthwhile to pursue. The underlying falsehood is our obsession with being 'busy' and confusing being 'busy' with being 'successful'. Typically, we want our businesses to profit across a number of criteria: financially, intellectually, artistically. We must know when to say NO to certain clients and projects. Saying 'no' is simply the articulated recognition that the criteria for success that we have set for ourselves and our companies have not been met. It is a learned skill. It is easily forgotten. It requires discipline.
More about:
Beth Edney,
Frank Ferragine,
Jim Mosher
---
3:00 - 4:00 p.m.
Protecting Fruit Trees from Pests and Diseases
Susan Poizner | OrchardPeople.com Fruit Tree Care Education
One of the biggest challenges fruit tree owners struggle with is pest and disease challenges. Pollution, stress, poor soil, neglect and proximity to other fruit trees mean our urban fruit trees need a little extra hands-on care to stay healthy. In this workshop urban orchardist Susan Poizner, author of the fruit tree care book "Growing Urban Orchards", outlines the key ways that you can help your clients protect their fruit trees from these problems. Topics covered include: organic sprays, manual traps and other tools, and good hygiene practices.
For ISA CEUs, the code # will be displayed at the end of the session, please email info@isaontario.com with the CEU Code # and date you watched the session.
More about Susan Poizner
---
3:00 - 4:00 p.m.
Seniors Gardens: A growing market with high profit potential
Ron Koudys, BLA, MEd, OALA, FCSLA, FASLA, RLA(MI), CLD | Ron Koudys Landscape Architects Inc.
Demographic factors, pandemic concerns, high incomes, real estate values and a host of other factors will fuel significant growth in the development of gardens specifically designed with seniors in mind. Designers and contractors who understand how to address this market will be prepared to meet the challenges of a trend that will take us into the middle of this century.
More about Ron Koudys
9:00 - 10:00 a.m.
Building Winning Teams: Keep them and train them to succeed
Rob Redden | in-Lite Outdoor Lighting
In this dynamic and interactive session we will discuss strategies used to create successful team members from their first day of employment. Sharing proven strategies, resources and tools; learn how to get the most out of team members while keeping them engaged, motivated and productive.
More about Rob Redden
---
9:00 - 10:00 a.m.
Garden Spotlight: Royal Botanic Gardens Kew (London, UK)
Moderator/Host: Michel Gauthier
Richard Barley, MCIH, FLS | Director of Horticulture & Learning, Royal Botanic Gardens, Kew
A virtual tour of the Royal Botanic Gardens Kew (a UNESCO World Heritage site), with insights into Kew's work behind the scenes and on global conservation projects.
More about Richard Barley
---
9:00 - 10:00 a.m.
The Cookie Has Crumbled: Considerations for Digital Advertising Without The Cookie
Zachary O'Connor | Web Conductors Inc.
What's that smell? It's not cookies, that's for certain. Third-party cookies have been foundational to digital advertising and that is changing, rapidly. The shift away from cookies is of monumental significance. If your business currently runs, or are considering doing advertising campaigns on Google or Facebook; this workshop is for you.
More about Zachary O'Connor
10:00 - 11:00 a.m. - Break
11:00 - 12:00 p.m.
High Level Estimating: Strategic vs Tactical Thinking
Geroge Urvari | Oriole Landscaping
Estimate and learn to use it like a pro!
More about George Urvari
---
11:00 - 12:00 p.m.
Container Gardening for Four Seasons
Catherine Karpman | From the Garden Shed
Get the most of your container gardens throughout the season with careful planning and design using a range of shrubs, perennials, annuals and decorative elements. Catherine shares her garden & design tips and techniques to create unique container gardens that can be enjoyed for every season.
More about Catherine Karpman
---
11:00 - 12:00 p.m.
The Internet of Nature
Nadina Galle, Ph.D.
Dr. Nadina Galle coined the term the "Internet of Nature" (IoN) to bridge ecology and technology in an era where sustainable urban development needs effective ways to strengthen their green spaces. Nadina works on IoN technologies including high-resolution satellite imagery to map tree condition; natural language processing to uncover citizen opinion on urban green space; and IoT soil sensors to optimize soil health and tree watering. Through research, design, and real-life (success) stories, Nadina shows us how the IoN is already being applied to build better places to live. Nadina believes that by weaving ecology with the modern world of technology, her audience will look at cities with a new perspective; as only then can we truly call cities the future biotope of humankind.
For ISA CEUs, the code # will be displayed at the end of the session, please email info@isaontario.com with the CEU Code # and date you watched the session.
More about Nadina Galle
12:00 - 1:00 p.m. - Break
1:00 - 2:00 p.m.
Current Supply Chain Issues and Forecast for 2022-2023
James Riddell | SiteOne Landscape Supply
Jeff Olsen | Brookdale Treeland Nurseries (BTN)
Mike Schiedel | GreenHorizons Sod Farm
Jason Ireton | Plant Products Inc
Jason Vettese | Best Way Stone
Every industry has been affected by supply chain struggles in one way or another recently and the landscape industry is no exception. Landscape professionals and supply companies have experienced issues with raw material and plant shortages, delays with receiving equipment and cost increases across the board, caused by the COVID pandemic, increased consumer demand for outdoor products, labour shortages, extreme weather and freight and logistics issues. In this session we will hear from representatives in a number of landscape sectors on what supply chain issues they are experiencing, how to manage current shortages and their supply chain forecast for the next 1-2 years.
More about
James Riddell
,
Jeff Olsen
,
Mike Schiedel
,
Jason Ireton
,
Jason Vettese
---
1:00 - 2:00 p.m.
Recommended Repertoire of Respectable Plants 4.0
Jon L. Peter, OAC, NPD | Royal Botanical Gardens
Colleen Cirillo
Darrell Bley | Niagara Parks
A brief summary of respectable plants. From the world of woody plants to the heaps of herbaceous plants, this panel will give insight into some new and old plant varieties that are proven to succeed in Ontario landscapes, and will highlight plants which could be useful in a variety of conditions. Maintenance tips and tricks.
More about:
Jon Peter,
Colleen Cirillo,
Darrell Bley
---
1:00 - 2:00 p.m.
Optimal Recovery, Sleep and Energy for Optimal Health
Matthew Posa, MChiro, DC | The Healthy Family Chiropractic
Back aches and pain are boring! What everyone really wants is the best way to avoid pain in the first place, have more energy and get better sleep. Optimal health means being able to recover so you are always heading in the right direction. Dr. Posa will share health care tips, tricks and the best strategies you can use in order to achieve better health and vitality and avoid dangerous drugs and surgeries.
More about Matthew Posa
2:00 - 3:00 p.m. - Break
3:00 - 4:00 p.m.
Three Reports Every Landscape Business Needs to Grow Profitability
Greg Herring | The Herring Group
A landscape business is easy to start, but it's tough to maintain in terms of profitability. As business owners, we aim to generate more profit than our expenses. However, it's often unclear what is working and what is not. There are three reports that can make your landscape business' profits stand out from your competition. During this talk, Greg explains these three reports, why they are powerful, and what results you should expect.
More about Greg Herring
---
3:00 - 4:00 p.m.
Trees and Construction Damage: Identifying, Understanding, and Mitigating Common Construction Related Problems in the Urban Environment for New Plantings and Mature Trees
Kyle McLoughlin | Ironwood Arboricultural Solutions
Managing trees in the Urban Environment is a technical process. In most circumstances, prevention of damage is far more valuable, cost effective, and simple, than remedial work. This session will explore the structure of trees, methods of protection during construction, and the results of successful protection vs improper practices. Additional insight will be added surrounding working within council expectations. This 45-minute lecture and 15-minute Q&A session will be useful for crew leaders, project managers, and general contractors.
For ISA CEUs, the code # will be displayed at the end of the session, please email info@isaontario.com with the CEU Code # and date you watched the session.
More about Kyle McLoughlin
---
3:00 - 4:15 p.m.
(Virtual Screening) FIVE SEASONS: The Gardens of Piet Oudolf
Sponsored by NIAGARA PARKS ALUMNI ASSOCIATION
After completing a feature documentary on New York's High Line, award-winning filmmaker Thomas Piper met the inspirational designer and plantsman, Piet Oudolf, and the idea for a new project was born. The documentary, FIVE SEASONS: The Gardens of Piet Oudolf, immerses viewers in Oudolf's work and takes us inside his creative process, from his beautifully abstract sketches, to theories on beauty, to the ecological implications of his ideas. Intimate discussions take place through all fours seasons in Piet's own gardens at Hummelo, and on visits to his signature public works in New York, Chicago, and the Netherlands, as well as to the far-flung locations that inspire his genius, including desert wildflowers in West Texas and post-industrial forests in Pennsylvania. As a narrative thread, the film also follows Oudolf as he designs and installs a major new garden at Hauser & Wirth Somerset, a gallery and arts centre in Southwest England, a garden he considers his best work yet. Piet Oudolf has radically redefined what gardens can be. As Rick Darke, the famous botanist, says to Piet in the film, "your work teaches us to see what what we have been unable to see." Through poetic cinematography and unique access, FIVE SEASONS will reveal all that Piet sees, and celebrate all that we as viewers have been unable to see.
View trailer here
.
9:00 - 10:00 a.m.
Planning for Success with Strategic Relationships
Jacki Hart, CLP | Consulting By Hart
Sponsored by IN-LITE OUTDOOR DESIGN
In this thought provoking 'out of the box' thinking session, learn how to classify, nurture and challenge your whole team to deepen your company's relationships at all levels, and how to enhance them! Get ahead and stay ahead of the competition by leveraging this important business strategy, which includes a focus on employee relationships.
More about Jacki Hart
---
9:00 - 10:00 a.m.
Preparing the Ground for Healthy Soil
Glenn Munroe | The Compost Council of Canada
Greg Patterson | A&L Canada Laboratories
Jon Durzi | Miller Compost
Sponsored by THE COMPOST COUNCIL OF CANADA and MEMBERS OF THE COMPOST QUALITY ALLIANCE
Join soil health and compost experts to learn more about the fundamentals of creating and maintaining healthy soils. This one-hour session provides the highlights of The Compost Council of Canada's multi-session program where landscaping, agricultural and gardening interests dig in to broaden their understanding of soil's biodiversity and how to engage this living workforce to help achieve productivity and sustainability objectives for any field or project.
For ISA CEUs, the code # will be displayed at the end of the session, please email info@isaontario.com with the CEU Code # and date you watched the session.
More about:
Glen Munroe,
Greg Patterson,
Jon Durzi
---
9:00 - 10:00 a.m.
Collaboration with Municipalities & Conservation Authorities
Paul R. Brydges, BLA | Brydges Landscape Architecture Inc.
Learn how to successfully collaborate with municipalities and conservation authorities.
More about Paul Brydges
10:00 - 11:00 a.m. - Break
11:00 - 12:00 p.m.
Budgeting During and Post Pandemic
Peter Guinane | Oriole Landscaping
The Good, the Bad and the Ugly — Budgets need to be monitored and adapted as the season develops.
More about Peter Guinane
---
11:00 - 12:00 p.m.
The Plant Parenting Revolution: Connect & Cultivate Houseplant Trends to Maximize Retail Sales
Leslie Halleck, CPH | Halleck Horticulture
The zeitgeist of nurturing ownership, thoughtful collecting, and creative display is in full bloom in the world of houseplant hobbyists. Houseplants, both old and new, are hot again with homeowners, apartment and dorm dwellers, and at the office. Succulents, orchids, and unusual foliage plants fill the feeds of millions of social media users. Indoor edible and ornamental gardening is gaining momentum. More than simply looking for ways to bring nature indoors, or grow their own food, people are also looking to collect, connect, and nurture. This session will cover current growing plant-keeping trends, the future of the houseplant craze, current and future popular plants, plus sales and marketing opportunities and strategies for independent garden centres.
**This session will only be available in replay format for 3 months following the original air date**
More about Leslie Halleck
---
11:00 - 12:00 p.m.
Indigenous Agricultural Techniques
Isaac Crosby | Lead Hand, Urban Agriculture | Evergreen Brick Works
This session will examine how using Indigenous Agricultural Techniques was used to reclaim a space at Evergreen Brick Works and University of Toronto Scarborough farm campus and how one space has become a place for the Indigenous community to gather. Isaac will examine three sisters gardening, clay pot irrigation, mound building, and showcase gardens as well.
More about Isaac Crosby
12:00 - 1:00 p.m. - Break
1:00 - 2:00 p.m.
Are you Digitally Relevant? Face the New World of Online Commerce and Communications Head On
Leslie Halleck, CPH | Halleck Horticulture
Are you digitally relevant? As a brick and mortar retailer, grower, or service provider, you might be struggling to compete for exposure (and sales) in the online marketplace. During the 2020-21 pandemic shut downs, you may have been forced to dive into digital commerce in a way you were not prepared for. Digital relevancy today is a non-negotiable component of a successful comprehensive marketing strategy; and to staying relevant to an evolving customer base. We'll cover the ins and outs of current online technology, apps, social media, e-commerce and other digital distribution channels you should employ so you can be "face-to-face" with your customers in the online world to capture market share.
**This session will only be available in replay format for 3 months following the original air date**
More about Leslie Halleck
---
1:00 - 2:00 p.m.
Invasive Species for Carolinian Trees
Kyle McLoughlin | Ironwood Arboricultural Solutions
Managing trees in Ontario comes with many challenges. Invasive species are probably one of the most significant. Even if you don't have to manage the pests you're bound to get a couple of questions from your clients. In the wake of emerald ash borer's devastation, there are several others worth learning about in order to properly understand the risks to your clients' trees and ways of handling them from an operational perspective in the field. This lecture will cover some that fly, some that float, and even one that hitchhikes.
For ISA CEUs, the code # will be displayed at the end of the session, please email info@isaontario.com with the CEU Code # and date you watched the session.
More about Kyle McLoughlin
---
1:00 - 2:00 p.m.
PaRx: A Prescription for Nature and Health
Melissa Lem, MD, CCFP, FCFP | BC Parks Foundation
Jennie McCaffrey B.Sc, M.A. | Engaging Change Consulting
Nature prescriptions were named one of the top eight global wellness trends in 2019. And it's no surprise — research shows that kids and adults who spend more time in nature are happier and healthier. Join us to learn more about PaRx — Canada's first national, evidence-based nature prescription program, powered by the BC Parks Foundation — and how nature-and-health principles can be applied in landscape work to improve personal and community well-being.
More about:
Melissa Lem,
Jennie McCaffrey
2:00 - 3:00 p.m. - Break
3:00 - 4:00 p.m.
Succession Planning - The Good, Bad, & Ugly
Nathan Helder, BSc (Agr) | Gelderman Landscape Services
There are many businesses looking to transition to the next generation. Two Generations (Traditionalists and Baby Boomers) are looking to retire and capitalize on their hard work. However, many are unsure or even scared to let go and many of them don't "believe/think" that their children or some staff are ready or even know what they could be getting themselves into. By attending this presentation, you will walk away with a best in class detailed plan on how succession can be completed.
More about Nathan Helder
---
3:00 - 4:00 p.m.
Restoring Ecosystem Functionality and Biodiversity
Heather Holm | Biologist and award-winning author
How can humans benefit from green infrastructure and ecological landscape restorations? Heather will discuss ways we can achieve a sustainable coexistence with the rest of life on earth. Models of restorative landscaping including residential and community opportunities will be highlighted as well as thoughtful plant selection, ecosystem functionality, and how biodiversity can be maximized. A focus on pollinator habitat and outcomes, trouble shooting and monitoring of restorations, and funding opportunities will also be included in the presentation.
More about Heather Holm
---
3:00 - 4:00 p.m.
Help Your Landscapes Shine with Professional Photography
Stacy Bass | Stacy Bass Photography
Joel Hordyk | Cameron St. Visual Storytelling
Jeff McNeill | McNeill Photography
This session will identify and provide an understanding of the importance images can be in showcasing landscape projects. Learn how to be successful in using photography in your business strategies. Also learn what to expect on-site when working with a professional photographer.
More about:
Stacy Bass,
Joel Hordyk,
Jeff McNeill
---